In 2011, at FDIC in Indianapolis, a group of fire-service manufacturers and suppliers attended an event called Stop, Drop, Rock & Roll, a fundraiser for the National Fallen Firefighters Foundation in the United States. The question on our minds was, Why aren't we doing this in Canada?
Ladders Up for the Foundation is the brainchild of Mark Prendergast of M&L Supply. That night in Indy, Mark successfully bid on a commemorative 9-11 helmet that became instantly famous among those attending the conference.
Mark wanted to make the same impact in Canada for the Canadian Fallen Firefighters Foundation. So, a committee was formed. Barry Malmsten and Mercedes Foulon from the Ontario Association of Fire Chiefs (OAFC), Catherine Connolly with Fire Fighting in Canada, Canadian Firefighter and EMS Quarterly, and Firehall.com, David Sheen with Toronto Fire Services and CFFF chairman, Kip Cosgrove with VFIS, and, of course, Mark. This group has worked together for many months to bring this exciting event to life.
Many vendors have donated items for auction and we anticipate this event and fundraiser to be a great success.
Proceeds will go to the CFFF to help build the monument in Ottawa.
Ladders Up will be an annual event at the OAFC conference. Each year we will endeavor to raise money for the foundation, and once the monument is built, the proceeds will go to help the families of fallen firefighters and go toward maintenance of the monument.
Below are the details of this inaugural event. Any fire department in Canada can bid on the items. Let's all work together to build a monument that will truly honour our fallen firefighters.

The event
All the efforts of Ladders Up For the Foundation will be celebrated at a fantastic event on Saturday, May 5! Winning bidders for the online items will be announced, and a silent auction will take place. Live entertainment and appetizers will be provided. Come celebrate our success in raising funds and awareness for this worthy cause!
Saturday May 5, 2012
6:00 - 8:30 p.m.
Doubletree Hotel (near Toronto Airport) – The International Room
655 Dixon Road
Toronto, Ont.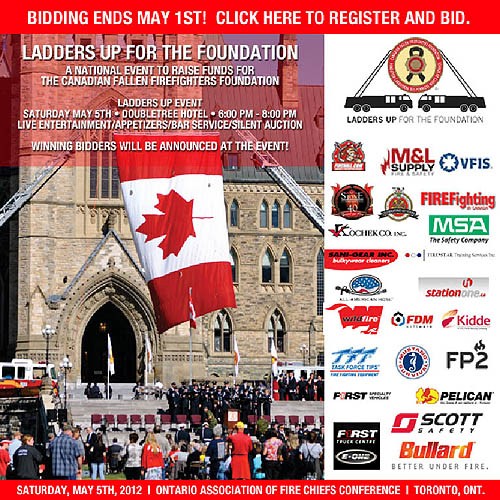 Click here for more information: www.laddersup.ca
Entertainment provided by:
MC/auctioneer Ken Kurz, deputy chief, Dryden Fire Department
Hors d'oeuvres will be served.
Cash bar.