Protect Yourself: Your Safety, Health and Survival Are Your Responsibility

The CFFF supports this initiative for firefighter safety. Details can be found at: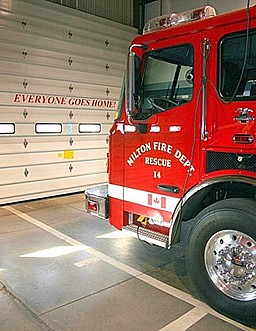 American Lafrance waits to respond in Milton, Ontario.
Note the reminder on the station door!
Our counterparts, the National Fallen Firefighters Foundation Launched a New Website for Firefighter Life Safety Initiatives.
The National Fallen Firefighters Foundation (NFFF) in the US has launched a new website dedicated to academic and strategic information and research that directly supports the 16 Firefighter Life Safety Initiatives.
The new site, www.lifesafetyinitiatives.com, provides the most recent and accurate resources about fire safety research initiatives.

This virtual library includes bibliographic materials which had been stored and maintained on the Everyone Goes Home® website. These materials will be updated as new information becomes available. The Special Topics section will feature emerging issues that will be beneficial to fire service researchers, writers and others with a particular interest in fire safety.
"This website is another step by the Foundation to advance the Life Safety Initiatives, reach a broader audience within the fire service, and help reduce the number of firefighters who die in the line of duty each year," said Ronald J. Siarnicki, executive director of the NFFF.

Input from researchers is also encouraged to ensure the information is timely and accurate. Articles, conference summaries or minutes, and other materials can be submitted for consideration.

"Anyone who conducts research about fire service and related safety issues will find this new source to be invaluable and should use it as their starting point for their own studies and endeavors," said JoEllen Kelly, PhD, coordinator of the Foundation's Everyone Goes Home® programs. "We are confident that this site will soon become the trusted place for fire service researchers."

The 16 Firefighter Life Safety Initiatives were developed in 2004 during the Firefighter Life Safety Summit. The NFFF is committed to advancing the initiatives by developing and offering a variety of safety education programs for firefighters. The Foundation will continue to provide tactical level information and training opportunities through the EveryoneGoesHome.com site.