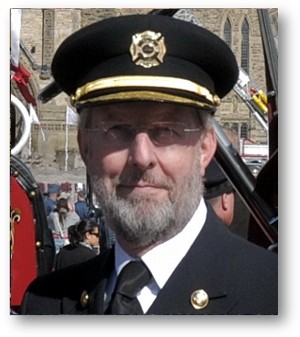 Will Brooks' involvement with firefighting began at the age of 9 when he responded to his first working fire. Will's father was a town councillor at the time. The senior Brooks took his young son to the fire hall at every opportunity.
Although the seed was planted early, it would be several years after his childhood experience before Will donned turnouts of his own. This came in 1987 in Truro, Nova Scotia where he served as a firefighter, completed the Nova Scotia Fire School program, and eventually became Lt. of Rescue and Salvage and Lt. of a Ladder Co. with the Truro Fire Brigade.
As well as a very amateur historian, Will is a retired psychologist, counsellor and educator. Before retiring from practice and active fire service in 1995, he received various awards, mostly due to the Critical Incident Stress Management Program (CSIM) he helped develop with the Fire Officers Association of Nova Scotia, implemented and operated for Nova Scotia firefighters.
Will also worked for 15 years as Professor and Director of Student Services at the Nova Scotia Teachers' College and, before that, two years as an Assistant Dean at Northern Illinois University. He has taught high school English and served on too many boards and committees to name.
During his time in Ottawa, Will has done numerous tasks, among them serving as the lead consultant to the Canadian Forces Member Assistance Program (CFMAP) and President of the Ottawa-Hull Military Family Resource Centre Board.
He has also had the rare opportunity to travel with NATO to most of the major cities in the Western World where, you guessed it; he spent time immersed in the firefighting services each provides. This was only possible given his marriage to Col (Ret.) Cheryl Lamerson, CD (2) Ph.D. who was attending NATO Defense College in Rome, Italy.
Undoubtedly, Will's most cherished work has been that of Founder of the Canadian Fallen Firefighters Foundation. Along with Georges Potvin and Bill Williams, Will found the resources to start the ball rolling and host the offices of the Foundation in his home from 2002-2007.
Will says none of the Foundation's accomplishments would have been possible without the incredible effort of many, many firefighters, interested Canadians and each of the past and present Directors of the Foundation.
After he stepped down, Will had 100 Founder's Coins made. Several people have them, and Will uses them to encourage new firefighters to think about their work and act safely. Others have it as recognition of the vital role they have played in the Foundation's development.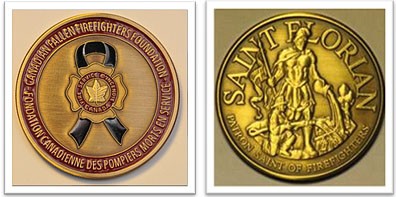 Will owned a 1951 Bickle-Seagrave fire engine. Will's engine had its first home at Base Trenton in Ontario before it spent many years in Petawawa as the town's first line pump. Recently, he donated it to Camp Borden the home of Canadian Forces firefighter training.In 2008, the fire engine Will had always dreamed of became available. It is a 1933 American LaFrance 750 GPM pumper seen at the left. She is known as "Matilda".
Will now spends much of his time writing about old fire engines, doing photography, working on his ALF, and trying to be sure that at least one of his 5 grandchildren turns out to love the fire service as much as he does.