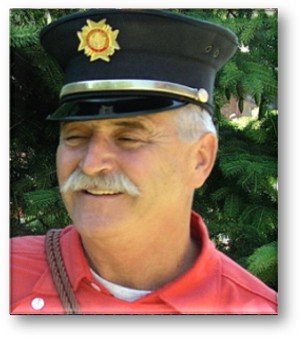 Georges Potvin served in the Ottawa Fire Department for thirty three years. For 12 years, Georges was an Inspector with the Fire Prevention Bureau and Head of Public Education.
In 1980, Georges convinced the Chief that restoring a 1927 Sanford engine would be a way of developing esprit de corps among the firefighters at old # 10 fire station. This activity was the beginning of the Bytown Fire Brigade which was incorporated February 23, 1983 as a non-profit historical society dedicated to the preservation and appreciation of the history of firefighting.
In 1982, just for an energy outlet, Georges took first place in the Canadian Karate Open. Yes, he has a black belt!
In 2000, as part of the Millennium celebrations, Georges, along with family, friends and Bytown Fire Brigade members crossed Canada (St. John's, Newfoundland to Victoria, British Columbia) with three antique fire engines. Georges' own truck, affectionately known as "Josephine", was the only engine to cross the Rockies under her own power. After this trip, Georges and Will Brooks joined with Bill Williams in several projects for the Bytown Fire Brigade.
Just after the events of 9/11, the three began with determination to create the Foundation to honour Canadian firefighters who had died in the line of duty.
The early days meant hours of planning, meetings, phone calls and e-mails to people all over Canada and the World. Georges' natural energy and connections with many firefighters all over Canada made the process of building the Foundation much easier than it would otherwise have been.
During this time, at every opportunity, Josephine carried the Foundation colours as Georges explained to an interested public what CFFF-FCPMS means. The first four CFFF Memorial Ceremonies saw Josephine on the stage as a symbol of national unity which the Foundation has become.
For those who know Georges personally, especially his Ottawa contemporaries, there can be no doubt that the sincerity and commitment to the Canadian Fire Service he displays have been a major determinant in the success CFFF-FCPMS enjoys today.
Georges lives in Gatineau, Quebec with his spouse, partner and best friend Cecile Denis, a retired teacher.