August 25, 2017
Regina, Saskatchewan
REGINA — Canadian flags will now fly at half-mast in an annual solemn day of honour as firefighters across Canada are recognized for their sacrifice, dedication, and bravery. The second Sunday of every September, beginning September 10 on the day of the annual Canadian Fallen Firefighter Foundation (CFFF) Memorial Ceremony, was designated today as 'Firefighters' National Memorial Day.
Led by the joint efforts of the Honourable Ralph Goodale, Minister of Public Safety and Emergency Preparedness, and the CFFF, the news of the official designation of Firefighters' National Memorial Day was received warmly by the families of all firefighters across Canada and those who have lost their loved ones in the line of duty.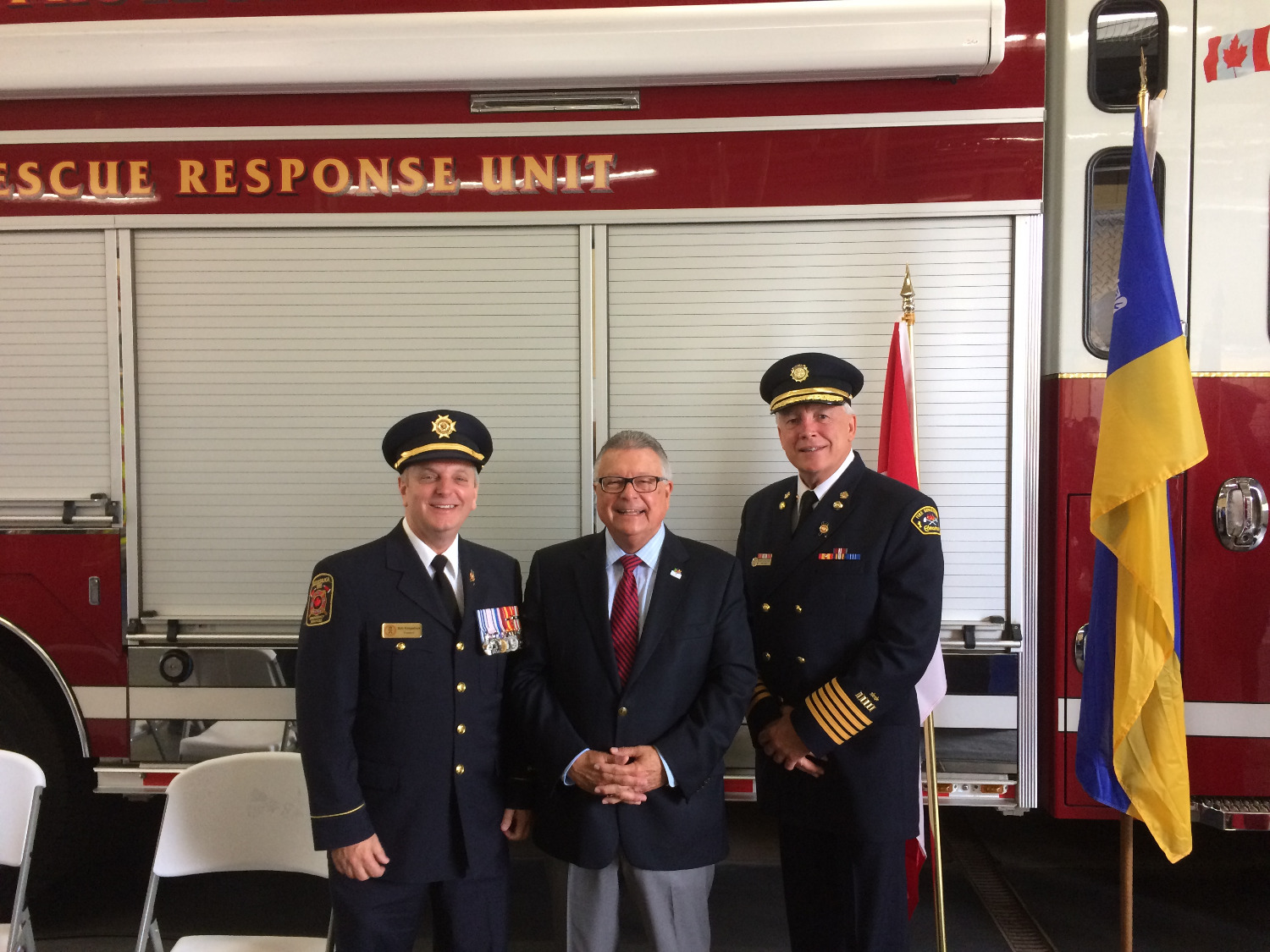 CFFF President Robert Kirkpatrick and CAFC President Ken Block with Minister Goodale for announcement.
"This is a significant milestone to have an annual day dedicated to those who have fallen in the Canadian fire service, and to also recognize the loss to their families and loved ones," said Captain Robert Kirkpatrick, president of the CFFF. "The Government of Canada has demonstrated that they truly appreciate the sacrifice and commitment of firefighters in this country."
In March 2017, Minister Goodale announced the Community Heroes Benefit, a compensation fund for families who have lost a first responder in the line of duty. The designation of Firefighters' National Memorial Day is further testament to the value the federal government places in the role of the firefighter.
On Sunday, September 10, Minister Goodale will deliver the keynote address in Ottawa at the 2017 Canadian Firefighters Annual Memorial Ceremony where families of the fallen from across Canada will be in attendance and recognized for the sacrifice of their loved one lost in the line of duty.
The Board of the CFFF is deeply committed to the families of the fallen and engages with them on an ongoing basis. The Foundation is all-inclusive in its recognition and support of the fallen, whether they are volunteer, who represent eighty percent of all firefighters, full-time, military, wildland, or industrial firefighters.
Link - Government of Canada Press Release
-------------------------------------------------------------------------------
Minister Goodale's Remarks on Firefighter's National Memorial Day
View video of the announcement during Question Period
Your Worship, distinguished guests from Regina and across the country.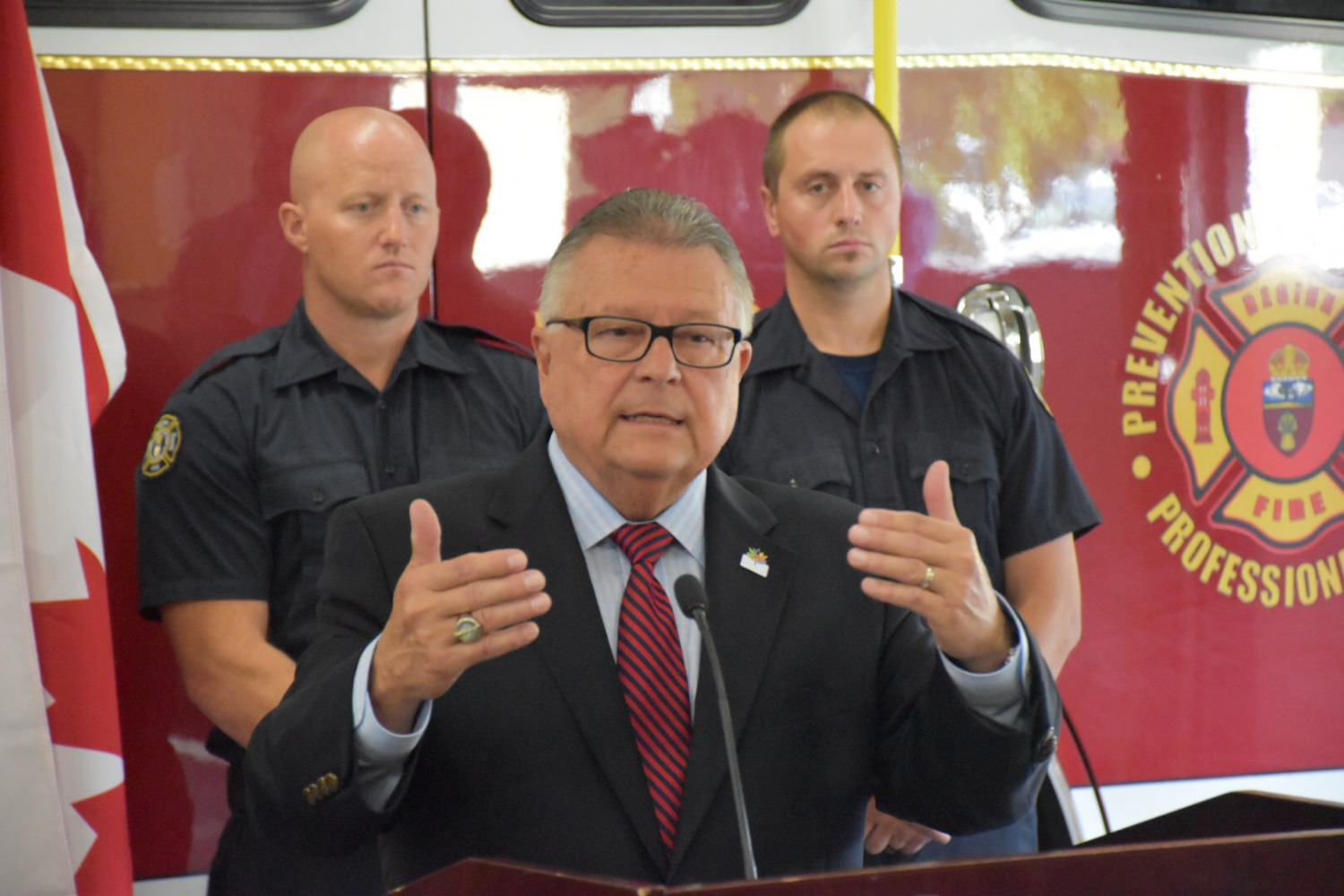 Bonjour tout le monde.
Good morning everyone. It is a great privilege to be back once again at Fire Hall #5 in Regina this morning, surrounded by some of Canada's finest, the brave and selfless women and men who put their lives on the line every day to protect all of us. Greetings and good wishes from Prime Minister Trudeau and the Government of Canada, and indeed I'm sure I bring with me the gratitude of the whole country for the sacrifices that you and your families are called upon to make.
That includes the heroic work of your colleagues in British Columbia this year, and particularly around Kelowna this morning, and in Fort McMurray last year, and in Northern Saskatchewan the year before that and in communities across the country every day, fighting fires and keeping people safe.
These efforts have been recognized around the world and have demonstrated in spades the tenacity and courage and skill of Canadian firefighting services. On behalf of all Canadians, thank you.
In addition to members of Regina's Fire and Protective services who are with us this morning, I am very pleased to be joined by several other representatives of the firefighting community across the country. Lloyd Zwack is the President of the Saskatchewan Professional Firefighters Association and he is also representing here today the International Association of Firefighters; Edmonton Chief Ken Block is here as President of the Canadian Association of Fire Chiefs; Richard Kent is Vice-President of the Aboriginal Firefighters Association of Canada; Graham Pawlett and Troy Mutch are President and Vice-President of the Canadian Volunteer Fire Service Association.
Serge Poulin is representing the indispensable Canadian Interagency Forest Fire Centre. The President of the Saskatchewan Association of Fire Chiefs, Ken Eskra from Churchbridge is here. So is Chief Dale Feser from Estevan, and of course Robert Kirkpatrick, President of the Canadian Fallen Firefighters Foundation.
Bob, the tireless work of your organization has been instrumental in making today's announcement possible. Thank you for your determined advocacy, your passion, your dedication to preserving and celebrating the memories of those who have served and fallen in this noble and essential calling.
September 11th, of course, holds huge significance for firefighters everywhere. Every year, on the second Sunday in September, as close as possible to the 11th, the Canadian Fallen Firefighters Foundation has organized a very moving ceremony to honour brave firefighters who have given their lives in service to us all and they've done that every year since 2004. People from across Canada gather on that day, the second Sunday in September, at the impressive memorial site in Ottawa to remember and pay tribute and to share the pride and the grief felt by the families and friends of firefighters who were killed in the line of duty.
Local services have long been held in memory of fallen firefighters in communities across the country. But Canada has never had a formally established national day designated to honour and remember the sacrifices of firefighters. Until now. Today, I am pleased to announce that the Government of Canada proclaims the second Sunday in September of each year to be Firefighters' National Memorial Day, beginning on Sunday, September 10th, 2017.
Et je le répète en français : Le deuxième dimanche de septembre chaque année sera officiellement le Jour commémoratif national des pompiers.
On my recommendation through Order in Council, the Governor General has directed that a proclamation be issued immediately to this effect. In addition, each year on that day, the Canadian flag will fly at half-mast on all federal buildings and establishments, including the Peace Tower, from sunrise to sunset. Half-masting is a rare honour, and it's my hope that when Canadians see the flag lowered every year at the local post office or on the RCMP detachment, as well as on Parliament Hill, it will cause them to ask why, and then inspire them to think of the firefighters at work in their communities and the ones who have made the ultimate sacrifice.
In my Public Safety portfolio, I have a lot of tough things to deal with. But one of the upsides is getting to know and to work with firefighters and emergency workers of all kinds. And we've been pushing an agenda to support their needs, renewing national funding for the heavy search and rescue teams across all the regions of Canada; creating a new compensation award to help the families of first responders who lose their lives in the line of duty; working with Public Safety, Health Canada and other federal departments, as well as provinces and territories, to install a truly national action plan to better cope with post-traumatic stress injuries; developing better communications systems to function during emergency responses; improvements to the building code; and so on.
There is a lot to get done. But we've got momentum and great support from Canadians because they recognize, from coast to coast to coast, this vital fact:
While most people are doing their best to escape a disaster and get out of harm's way, first responders like firefighters are running directly into it, and they do that to protect people, to save lives with the full knowledge that something bad might happen. When tragedy strikes, the grief felt by a firefighter's family and colleagues is shared by the whole country. And that's why we need Firefighters' National Memorial Day, to come together to remember and mourn together, to support one another and to celebrate those wonderful lives.
And now, that day is officially proclaimed. It will be my honour to join all of you in Ottawa on Sunday, September 10th, 2017. Thank you very much.