2020 memorial ride to ottawa
Firefighters Embark on Fourth Annual Bike Pilgrimage from Oakville to Provincial Firefighters Memorial in Toronto in Recognition of the Canadian Fallen Fighters
FOR SEPTEMBER 13, 2020 – On Sunday, September 13th, 2020 the Toronto Professional Fire Fighters Celtic Society will embark on a shortened Memorial Ride this year. We will be riding from Oakville to Toronto to recognize the 76 names that will be added to the Canadian Fallen Fire Fighters Memorial wall this year.
The purpose of the ride is to raise funds and awareness for the Canadian Fallen Firefighters Foundation(CFFF), which hosts the annual National Firefighters Memorial (www.cfff.ca) to honour, remember and support the families of firefighters whose lives were lost in the line of duty.
This year's Memorial takes place virtually on Sunday, September 13th, 2020 at the Canadian Firefighters Memorial in Ottawa. 76 names of the fallen will be etched on the Memorial Wall this year, among those 1600 names already included of fallen firefighters from across Canada and the territories, dating back to the late 1800s.
The annual National Firefighters Memorial draws hundreds of firefighters from each of the provinces and territories who attend the ceremony in a show of solidarity and commemoration. The Toronto Professional Firefighter Celtic Society ride has grown every year in participation numbers and in tributes to their fallen comrades.
Usually, the Memorial Ride to Ottawa is a three-day cycling event that starts in Hamilton and ends at the National Memorial in Ottawa. However due to COVID – 19, this year we will be embarking on a shortened ride. The shortened ride leaves Oakville on Sunday, September 13th at 10:30 hrs and ends in Toronto at 12:00 hrs. This year's ride can be attended virtually as we will be live streaming the cycling trip on Facebook (TPFFCS Memorial Ride to Ottawa), which we plan on raising $20, 000 for the CFFF.
Donate at: https://www.canadahelps.org/en/charities/canadian-fallen-firefighters-foundation/p2p/2020_Ride/
Join us in supporting this worthy cause
The goal is to raise $20000.00 for the Canadian Firefighters Memorial. Click Here to Donate!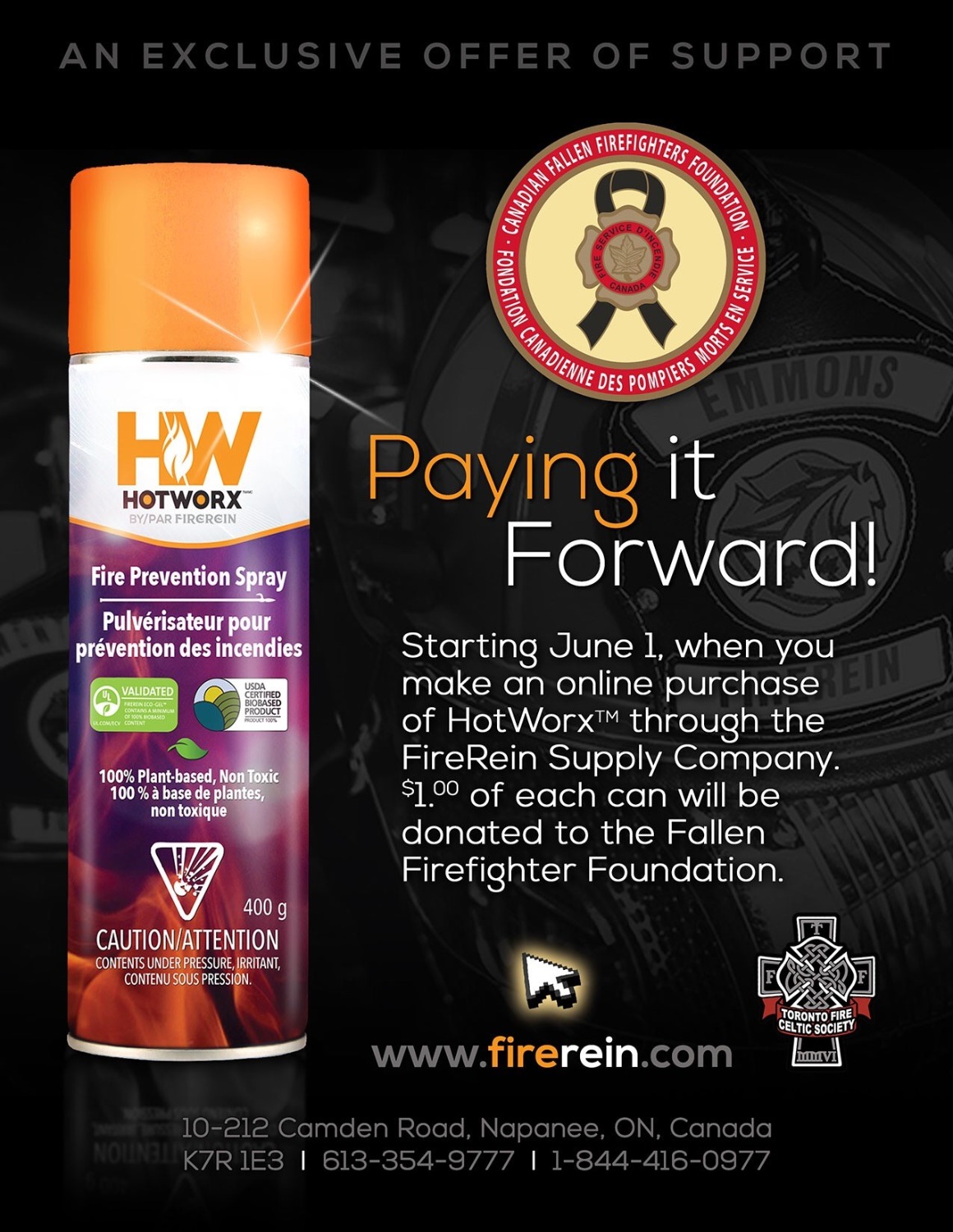 The Canadian Fallen Firefighters Foundation was created to HONOUR and REMEMBER firefighters who have been killed in the line of duty and to SUPPORT their families. The CFFF is a registered charity and operates by fundraising.
For Corporate sponsorships to support the team please email tpffceltic@gmail.com
The 2020 Memorial Ceremony will take place on Sunday September 13th at 10:30 AM.