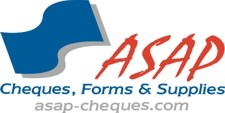 Cheques Specially Designed To Benefit the CFFF:
ASAP Cheques, Forms & Supplies in Gananoque, 1000 Islands, Ontario, has developed a special cheque style for The Canadian Fallen Firefighters Foundation, which has been christened "Fighting An Overwhelming Foe" within their "First Responder" series. There are three cheque styles for this design; one personal style and two business styles, including a voucher (laser cheque) style.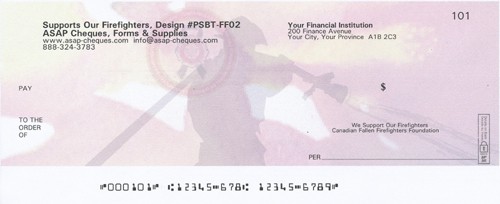 A portion of the sale price of these special personal and business cheques will go to the CFFF. Pricing is also much lower than bank prices, and most orders are ready to ship in one day!
If more Firefighters, their associations and their friends decide to use these cheques, even larger donation amounts by ASAP Cheques can be provided to the Canadian Fallen Firefighters Foundation. A major benefit for those who order the special CFFF cheques is that ASAP Cheques prices are 30% to 50% below bank prices.
For your cost savings and, to support the Foundation we would like to encourage every Firefighter Association in Canada to use the business cheque style for their various accounts.
To place an order for the "Fighting An Overwhelming Foe" cheques to benefit the CFFF, please go to: http://www.asap-cheques.com/cfff. Cheques are available in English or bi-lingual French.
Thanks to ASAP Cheques for their support!
Your purchase of "Fighting an Overwhelming Foe" cheques from ASAP Cheques, Forms & Supplies has raised more than $950.00 to date for the CFFF. Thank you to all those that have purchased these unique cheques.